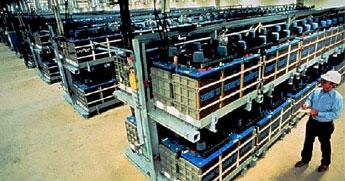 BIGGEST BATTERY IN THE WORLD PROMPTED US TO DEVELOP BATTERYVITAMIN.
Load-leveling battery - reinforcement of local electricity grid network - rated at 40 MWh - located Chino, near Los Angeles, California. Eight strings, each string 1032 submarine-type lead-acid cells, each cell rated 3250 Ah. Extra long life materials were used, including micro-porous natural rubber separators and special lead-antimony-arsenic positive grid and lead-calcium negative grid alloys - to give a designed cell life expectancy of 4000, guaranteed cycle life expectancy of 2000 deep cycles.
We developed and manufactured the automatic watering valve - activated carbon stibine/ arsine filter - flame arrestor units for this battery. (Filter based on US Statutory Invention H816, assigned to US Secretary of the Navy.)
The Chino battery provided an important milestone in terms of battery life management. We recognized the unqualified success of this battery. It persuaded the directors of our company to invest serious time and money in R&D, to develop an easy to use technology that can give motive power battery operators hands-on control over the life expectancy of their valuable batteries. It took twelve years. We named it Batteryvitamin.